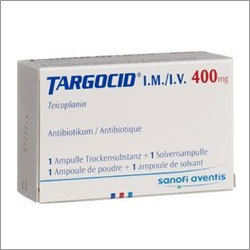 Trade Information
10000 Pack Per Week

2-5 Days
Product Description
teicoplanin ; Belongs to the class of glycopeptide antibacterials. Used in the treatment of systemic infections.
Glycopeptide antibiotic with spectrum of activity is similar to vancomycin but teicoplanin may be more active in vitro against enterococci and some anaerobic organisms but some coagulase-negative Staphylococci are less sensitive to teicoplanin than to vancomycin.
Absorption:
Poorly absorbed from the GI tract. IM bioavailability: 90%. Peak plasma concentrations: 1 hr (IV); 2-4 hr (IM).
Distribution:
Protein binding: 90-95%. Poor penetration into the CSF. It is taken up into white blood cells.
Excretion: Excreted unchanged via urine (97%).
Other Products in 'Anti Cancer Injectables' category